Paying it forward while leaving her Niner legacy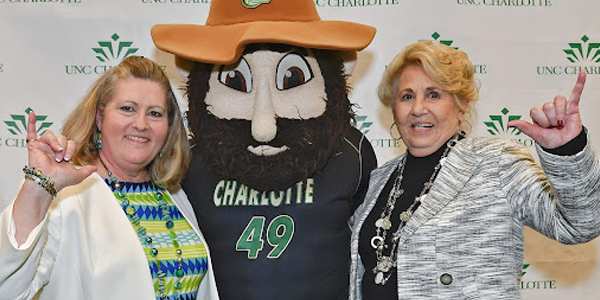 BY KAM HESLOP AND JENNIFER HOWE


No one has perfected the "Let's go, Niners" chant quite like UNC Charlotte alumna Misty Hathcock, Ed.D.
If you've been to a Charlotte 49ers sporting event in the past ten years, you've definitely heard her cheering them on as they've faced competitors in a variety of sports. As a five-time graduate of the University, - yes, five - Hathcock considers UNC Charlotte her second home.
"This University is more than just a place where I gained my education," she effused. "I would not be where I am today without the education I received, opportunities afforded me, and lifelong relationships established at UNC Charlotte."
Over the 44 years that Hathcock has been associated with UNC Charlotte, she has met so many special individuals who have impacted her life, starting with Miss Bonnie Cone.
"She was truly an inspiration, and I admired her for her love of this University," said Hathcock. "I have Miss Bonnie's favorite quote with me at all times and live by it: 'I am only one, but I am one. I cannot do everything but I can do something.'"
Like Cone, Hathcock's passion for education led her to UNC Charlotte. She earned a bachelor's degree in intermediate education in 1985, a Master of Education degree in 1991, a master's degree in education administration in 1992, a Certificate of Advancement in educational administration in 1996, and finally, her doctorate in education in 2004.
After working as a teacher and administrator for 11 years in Anson County Schools, Hathcock returned to campus as an employee in 1998. "I quickly realized there was truly no place like UNC Charlotte and came home," she said, beaming. In addition to serving as a clinical professor of reading and elementary education, Hathcock became the Cato College of Education's director of alumni affairs in 2018: a role that was literally created for her.
"I am excited to celebrate, connect, and engage our graduates from the Cato College," said Hathcock, who has also served as president of the UNC Charlotte Alumni Association. "In July 2021, I started my 36th year as an educator in the state of North Carolina. UNC Charlotte has afforded me the opportunity to grow in my craft as a teacher and enhance and expand my role as a leader."
In case her schedule wasn't busy enough, Hathcock's commitments also include being regional director of the North Carolina New Teacher Support Program and the site coordinator for student teaching. For 17 years, she also led as the first full-time director of the University's North Carolina Teaching Fellows Program.
For Hathcock, the gift of her time, talent and treasure is a small token of the love she has for the University that has given her so much.
Passing along her lifelong connection to education
Hathcock was introduced to UNC Charlotte long before she applied to become a student. "My mom came here, and I came with her," she remarked. "I would sit in the back of the classroom or in the hallway doing my homework."
Her mother, alumna Linda Humble M.Ed. '77, C.A.S. '78, and grandfather instilled in Hathcock the importance of a quality education. In fact, Hathcock is a fifth-generation teacher and between her and her mother, they proudly hold all seven degrees from UNC Charlotte's Cato College of Education.
"It's because of my mother that I attended UNC Charlotte as a student. As a single mother, she exemplified determination and perseverance," said Hathcock. "She reminds me a lot of Miss Bonnie who never accepted the word 'no' and would make things happen no matter the barriers."
In an effort to repay the support that the duo received from the University and to lessen the burden that future Niners might face, they established the Hathcock-Humble Legacy Scholarship in Education in 2018.
"My mother and I wanted to create a lasting legacy," said Hathcock. "We hope legacy students who have dreamed of becoming teachers, administrators and counselors have the opportunity to do so and if they are financially in need, perhaps our scholarship can help."
The fund, which is the University's first endowed legacy scholarship, supports undergraduate and graduate students in the Cato College of Education who are legacy students - those whose parents, stepparents, siblings, and grandparents also attended UNC Charlotte.
"It's hard to overstate what our donors, like Misty and Linda, mean to us and to the field itself," said Teresa Petty, dean of the Cato College of Education. "Their support makes all the difference for many of our students and programs and is a driving force in our efforts to produce the next generation of teachers, counselors, and school leaders."
The Hathcock-Humble Legacy Scholarship has given recipients the ability to focus on becoming exceptional future educators. Their support has already made a significant impact.
One proud recipient of Hathcock's scholarship, Hayley McNeill '21, was recently named the esteemed winner of the National First-Year Teacher of the Year Award from Kappa Delta Pi and the Association of Teacher Educators. McNeill just completed her first year of teaching second grade at Blythe Elementary School in Huntersville, NC, which laid the groundwork for receiving this prestigious award.
"I love being in the classroom, and I love sharing my passion for learning with my students," said McNeill. "Teaching is not a one-size-fits-all approach, therefore my students may receive different tools in order to have the same opportunities."
The news of McNeill's accomplishment was especially heartwarming for Hathcock because she also serves as the counselor of Kappa Delta Pi's UNC Charlotte chapter. Hathcock's guidance even led to the chapter being named the top chapter in the world and presented with the 2017 Florence B. Stratemeyer Award for Chapter Excellence.
Hathcock hopes that her and her mother's scholarship will lead to more educators following in the footsteps of the many talented Niner educators who came before them.
"This scholarship has made an impact on my life by helping me to know that other educators are supporting me," said Chressy Rayfield '20, the first recipient of the Hathcock-Humble Scholarship. "It has motivated me and encouraged me to work harder to become an educator who will touch the hearts and lives of the next generation and their loved ones." Rayfield now serves as a special education teacher at G.E. Massey Elementary School in Lincolnton, NC.
To honor Hathcock's timeless and transformative commitment to teaching, the Cato College of Education added Hathcock's name to the Cato Teaching Discovery Mural . The mural, funded by alumnus John Cato '73, is a work of art that honors the teaching profession and specific teachers who have made a significant impact; it also serves as a source of inspiration for future generations of educators who walk by the mural each day.
Her devotion to the University even earned Hathcock the 2012 Bonnie E. Cone Lifetime Achievement Award, the highest honor the UNC Charlotte Alumni Association bestows. She also received the Distinguished Alumna Award from Cato College's Department of Educational Administration in 1999.

"My core values are guided by faith, family, and health," said Hathcock. "Keys to my success are what I refer to as 3 Cs: commitment, courage, and compassion. I truly believe in giving of my time, talents, and treasures."
If you would like to learn more about how you can support UNC Charlotte students, please contact us at
plannedgiving@uncc.edu
or 704-684-0301.