SCHOLARSHIP PROPELS MCNEILL TO NATIONAL SUCCESS AS AN EDUCATOR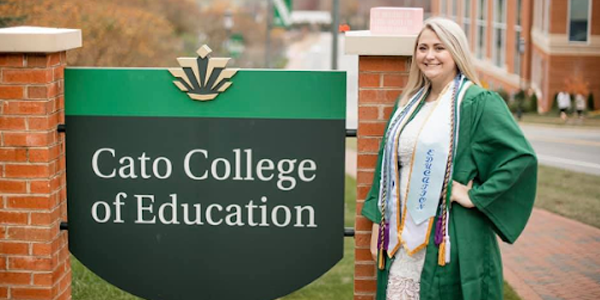 BY: KAM HESLOP


When Hayley McNeill '20 first stepped foot on UNC Charlotte's campus, she had absolutely no idea what major she wanted to pursue.
Originally, she thought kinesiology would be perfect because she enjoyed learning about human movement. But ultimately, it wasn't the right fit. After switching to criminal justice, she was sure she had finally discovered a spot-on field. Again, it didn't feel right.
Her perfect major hit her at the most unexpected time: while she was presenting during a group project.
"I figured out that I liked being in the classroom more than learning the actual content, so I made the jump to teaching," she shared. "I now can never see myself doing anything else! I feel like I was made to do this."
Once she made that connection, McNeill realized that she had enjoyed aspects of teaching for as long as she could remember.
McNeill, who was a volleyball star in high school and was a member of the Charlotte 49ers women's team before retiring after an injury, loved teaching others about her favorite sport. In her hometown, she even served as the in-house volleyball coach and referee at the Carolina Courts, where she educated young girls on the fundamentals of the sport while also incorporating competitive games to promote teamwork and exercise.
She thrived in that environment.
"Coaching is just like teaching, where you build relationships with the players and parents," she emphasized. "And, you teach them the sport that you have a passion for."
Upon entering the Cato College of Education to study elementary education, McNeill was introduced to Professor Drew Polly who would become the most impactful mentor she's ever met.
"I always enjoyed going to class knowing that someone had my back and was rooting for me. I ended up working with him on a research project of my own as well as assisting him last summer on literature reviews," she said.

"Even after graduating, he still reaches out to me with opportunities or just to check-in. You can really tell that he cares about new and veteran teachers and the profession as a whole."
Overcoming hardship and finding her path
Dr. Polly and her friends in the program were also there for McNeill when tragedy struck her and her family.
"One of my sisters, Darragh, passed away during my student teaching experience," she recalled. "This was extremely hard on my family."
Using her sister's memory as inspiration, McNeill was able to complete her student teaching and was even honored with the 2020 Student Teacher of the Year Award.
"This really just showed me to keep pushing hard and it is one of my more proud moments."
Another one of McNeill's most fulfilling moments was being named the recipient of the Hathcock-Humble Legacy Scholarship in Education, established by alumna Misty Hathcock, Ed.D. '85, '91, '92, '96, '04 and her mother Linda Humble M.Ed. '77, C.A.S. '78.
"I felt extremely grateful knowing that someone cared about my education," McNeill explained. "I have worked incredibly hard to earn my degree, and I am eternally grateful for the support that I have received."
The scholarship, which is the University's first endowed legacy scholarship, supports undergraduate and graduate students in the Cato College of Education who are legacy students - those whose parents, stepparents, siblings, and grandparents also attended the University.
"My mother and I wanted to create a lasting legacy," Hathcock said. "We hope legacy students who have dreamed of becoming teachers, administrators and counselors have the opportunity to do so and if they are financially in need, perhaps our scholarship can help."
McNeill's grandmother, Joanne Jordan, graduated from UNC Charlotte in 1994 with degrees in psychology and sociology. McNeill also follows in the footsteps of her sister and cousin, who both attended the University. "Being a legacy means that I get to continue on the tradition of being a 49er and giving back to the school and community," she said.
The scholarship enabled McNeill to focus on her education during her time at UNC Charlotte instead of having to juggle multiple jobs. It also gave her the free time to become a member of the Kappa Delta Pi Honor Society in Education, which Hathcock serves as the counselor.

Awarded for her world-class teaching
This year, McNeill was named the esteemed recipient of the National First-Year Teacher of the Year Award fromKappa Delta Pi and the Association of Teacher Educators after completing her first year of teaching second grade at Blythe Elementary School in Huntersville, NC.
Her principal, Felisa Simpson, couldn't stop praising her after learning about the award. "Ms. McNeill often transforms her classroom to make learning come alive and ensures learning is not only fun but rigorous," said Simpson. "She has a take-charge personality and has consistently demonstrated the ability to work well with others."
The prestigious award recognizes one student-teacher or intern who has demonstrated the ability to plan and develop classroom management skills and instructional strategies that support all students and who establishes interpersonal relationships with students, parents, faculty, and staff.
"Teaching is not a one-size-fits-all approach; therefore, my students receive different tools in order to have the same opportunities," McNeill remarked. "I love how welcoming all of the staff is and how amazing the students and parents are. I also love how this school values diversity and is an International Baccalaureate (IB) school."
In addition to teaching, McNeill is currently a graduate student in the Cato College's elementary education program, where she is also obtaining a concentration in academic and intellectually gifted education. She expects to graduate in 2022.
"My plan is to gain years of teaching experience under my belt and eventually move into a leadership role down the road. I always want to challenge myself to learn more and advance within our field."
To Hathcock and Humble, McNeill can't express her appreciation enough.
"Thank you from the bottom of my heart for supporting students like me who are striving to earn an amazing education from UNC Charlotte," she stated.
"Being a Niner means that I am a member of a diverse and elite institution that provides excellent education, friendships, and opportunities that I would not have received anywhere else. My time being a Niner is the best years of my life, and I hope to continuously share my experiences with fellow Niners to come."
If you're interested in supporting students like Hayley through a scholarship, please contact our office at plannedgiving@uncc.edu or 704-687-0301.