Scholarship Support Makes Nursing Career Possible for Recent Grad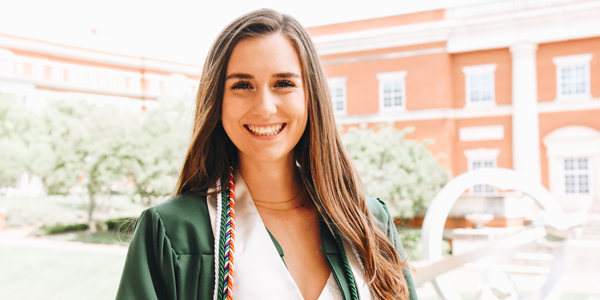 After only 10 seconds on campus, Erin Wilson '21 knew - with complete certainty - that UNC Charlotte would be the university that she would call home for the next four years of her life.
"I take so much pride in the fact that UNC Charlotte was the only school that I fell in love with enough to apply to," said Wilson, who is originally from Apex, NC. "Of all the colleges I toured, UNC Charlotte gave me the feeling that it was 'the one' for me."
It was the stunning campus and spirited atmosphere that made Wilson feel so comfortable. The School of Nursing, where she graduated in 2021 with a bachelor's degree in nursing , also connected Wilson to some of her closest friends.


"Charlotte introduced me to so many amazing people that I know I will remain friends with for the long run," she said, smiling. "As a freshman in Laurel Hall, I met two people who have become so special to me and were even in my bridal party for my wedding."
On June 26 in Raleigh, Wilson happily exchanged vows with her middle school sweetheart and fellow UNC Charlotte graduate, Drew Pescaro '21.

Turning her passion into the perfect professional


Coming from a large family led by a single mother, money was sometimes tight in Wilson's household. The Nursing Alumni Scholarship , created by UNC Charlotte School of Nursing alumni, along with supplemental scholarship support helped to significantly decrease the financial burden that her family had to face.
And for that, Wilson is eternally grateful.
"I cannot even begin to express how tremendously scholarships have impacted my time here at UNC Charlotte," she said. "Earning scholarships allowed me the financial freedom to be able to provide for my basic needs without having to pursue part-time, or even full-time, employment while still in school."
Her scholarships also made it possible for Wilson to pursue a newfound passion.
"I actually didn't know until the summer before I began college that I wanted to pursue nursing," said Wilson. "I'd like to share this with others because it's actually quite uncommon in nursing. Many of my classmates had aspirations to pursue careers in nursing from a young age. While I did not have this same experience, I think it goes to show that it's never too late to discover your passions."
This June, she accepted a position as a licensed registered nurse in the intensive care unit at the Duke Raleigh Hospital.
"I am beyond excited to apply the knowledge I gained in nursing school to providing care for my own patients," Wilson said. "Duke is a nationally renowned healthcare system, and I am confident that the UNC Charlotte School of Nursing has prepared me for a flourishing career helping others."
Supporting the next generation of Niner nurses
Wilson credits her nursing classes, the Nursing Alumni Scholarship and her experience as a nursing mentor for her current success in the field.
"Nursing school has an infamous reputation for being extremely difficult and, while the program was tough, it was also some of the most enriching and memorable years of my life," she shared. "Earning acceptance into - and graduating from - such a competitive program gave me confidence in my abilities to succeed in the field of nursing and that faith in myself will stick with me long after my college years."
This year, Wilson has seen the remarkable impact that nurses have had on the nation and around the globe.
"Since the COVID-19 pandemic, we have seen more than ever how essential nurses and other healthcare professionals are to the wellbeing of our communities," she said. "I truly enjoyed being able to mentor other Niner nursing students to remind them of how valuable they are."
She hopes to return to UNC Charlotte in the future to earn her doctorate in nurse anesthesia . When she's able, Wilson is excited to pay forward the support that she has received.
"I look forward to helping future UNC Charlotte students because I know their struggles and difficulties firsthand," Wilson asserted.
"And, if I could speak directly to the donors of my scholarships, I would say 'thank you' but that would simply not do justice to the gratitude I feel toward their generosity," she said. "You are giving students the financial peace-of-mind that they need to focus solely on excelling in their academic studies!"