A Journey Began with a Dream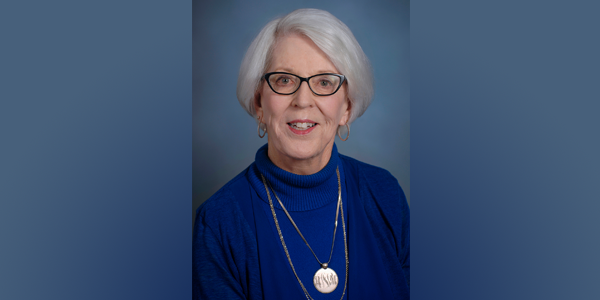 Ann Newman '78 always dreamed of going to college. Her parents could not afford to send her, yet that didn't stop her.
Through hard work, and the generosity of philanthropists, Newman not only earned a bachelor's degree from UNC Charlotte, but also a master's and doctorate.
Now, as a retired faculty member in the School of Nursing at UNC Charlotte and a career-long nurse, Newman has become the philanthropist and she is laying a foundation for future students through a planned gift to UNC Charlotte.
"I can't remember a time when I did not want to be a nurse," said Newman. "When I began my education at UNC Charlotte I just wanted to get a degree in nursing, and when I left 34 years later I wanted everyone to get a degree in nursing at UNC Charlotte's School of Nursing."
The Dr. Ann Mabe Newman, RN Dreaming the Dream Endowed Fund is being established to promote research within the School of Nursing, with the ultimate goal of supporting a Ph.D. program in nursing. Newman's generosity will enable stipends for faculty research, grant writing support and travel/registration fees for presenting research findings, as well as enhancing current research.
"The professors I had opened my eyes to lifelong learning as more than concept," said Newman. "I became a nurse scientist, learned to write grants, disseminate nursing knowledge and became a leader in my professional associations. Saying my time at UNC Charlotte was life changing to my practice as a nurse and a professor is an understatement."
During her tenure as an associate professor at UNC Charlotte, Newman taught courses in psychiatric-mental health nursing and health policy, along with developing the University's online graduate program in nursing education. Throughout her distinguished teaching and research career, she received numerous honors, including the prestigious Bank of America Award for Teaching Excellence. She also served on the North Carolina State Board of Nursing and as president of the University's Faculty Council.
Today, Newman continues to provide pro bono health care services to the community, including grief and mental health counseling, advice on obtaining access to health services and information on managing chronic illnesses. In 2010, she was named one of the 50 Most Influential Women in Charlotte. She chairs the University's Retired Faculty and Professional Staff Council and was instrumental in establishing a nursing alumni emergency fund for UNC Charlotte's nursing students. Most recently, to celebrate the School of Nursing's 50th Anniversary, Newman co-authored the book, "Miss Bonnie's Nurses-The First Fifty Years of Nursing at UNC Charlotte."
"Miss Bonnie, our founder, had a dream and she followed the steps of making it happen-dreaming the dream, laying the foundation, making the decision, building support and moving forward," said Newman. "Students today should enter the extraordinary world of nursing and begin the joyful, but sometimes overwhelming, task of providing care, comfort, knowledge and expertise to people during their most vulnerable times. It is well worth it."